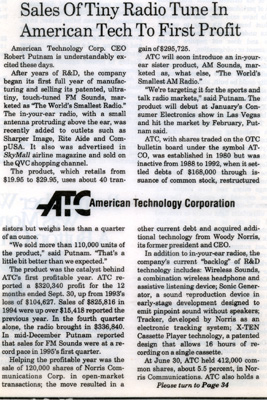 Sales Of Tiny Radio Tune In American Tech To First Profit
American Technology Corp. CEO Robert Putnam is understandably excited these days.
After years of R&D, the company began its first full year of manufacturing and selling its patented, ultra-tiny, touch-tuned FM Sounds, marketed as "The World's Smallest Radio." The in-your-ear radio, with a small antenna protruding above the ear, was recently added to outlets such as Sharper Image, Rite Aide and CompUSA. It also was advertised in SkyMall airline magazine and sold on the QVC shopping channel.
The product, which retails from $19.95 to $29.95, uses about 40 transistors but weighs less than a quarter of an ounce.
"We sold more than 110,000 units of the product," said Putnam. "That's a little bit better than we expected."
The product was the catalyst behind ATC's first profitable year. ATC reported a $320,340 profit for the 12 months ended Sept. 30, up from 1993's loss of $104,627. Sales of $825,816 in 1994 were up over $15,418 reported the previous year. In the fourth quarter alone, the radio brought in $336,840. In mid-December Putnam reported that sales for FM Sounds were at a record pace in 1995's first quarter.
Helping the profitable year was the sale of 120,000 shares of Norris Communications Corp. in open-market transactions; the move resulted in a gain of $295,725.
ATC will soon introduce an in-your-ear sister product, AM Sounds, marketed as, what else, "The World's Smallest AM Radio."
"We're targeting it for the sports and talk radio markets," said Putnam. The product will debut at January's Consumer Electronics show in Las Vegas and hit the market by February, Putnam said.
ATC, with shares traded on the OTC bulletin board under the symbol ATCO, was established in 1980 but was inactive from 1988 to 1992, when it settled debts of $168,000 through issuance of common stock, restructured other current debt and acquired additional technology from Woody Norris, its former president and CEO.
In addition to in-your-ear radios, the company's current "backlog" of R&D technology includes: Wireless Sounds, a combination wireless headphone and assistive listening device; Sonic Generator, a sound reproduction device in early0stage development designed to emit pinpoint sound without speakers; Tracker, developed by Norris as an electronic tracking system; X-TEN Cassette Player technology, a patented design that allows 16 hours of recording on a single cassette.
At June 30, ATC held 412,000 common shares, about 5.5 percent, in Norris Communications. ATC also holds a 1 percent royalty on Jabra Corp. products incorporating a wireless receiver. At year-end ATC retained marketable securities worth more than $1.1 million.
Earnings and Revenues
For the year ended Sept. 30, American Technology Corp. earned $320,340, or 4 cents per share, on sales of $825,816, compared with a loss of $104,627 on $15,418 in 1993.
In the fourth quarter alone, ATC made $311,817 on sales of $336,039, compared with losing $22,489 on $15,418 a year before.
Directors and Officers
Ellwood G. Norris, 55, ATC's president from August 1980 to February, is a director. Robert Putnam, 35, is president, CEO and a director. Richard Wagner is secretary and a director; and David Norris is general manager and a director.
Major Shareholders
Elwood Norris owned 2.80 million shares on June 30, 36 percent of the company's stock; Zzyzz Technology Ltd. controls 700,000 shares, 9.6 percent; Putnam holds 420,000 shares, 5.6 percent; David Norris, 100,000 shares, 1.4 percent; and Wagner, 40,000 shares, 0.5 percent.
Stock Price
ATC stock closed the year around 56 cents per share, off the year's high of 93 cents but better than the low of 31 cents.
Less Vital Statistic
Address: 12800 Brookprinter Place, Poway, CA 92064. Phone: (619) 679-2114. Last annual meeting: June 19. Next annual meeting: Late January or early February.
Patriot Scientific Corp. Likes ShBoom Chip So Much, ShBam, It Buys It
Poway's Patriot Scientific Corp. closely examined a piece of technology developed by Nanotronics Corp. of Eagle Point, Ore.
Patriot decided it wanted Nanotronics' sophisticated low-cost 32-bit RISC-based microprocessor, the ShBoom Chip, to add to its radar technology base.
In early summer the two companies were in discussion and by June 28 the deal was done.
Patriot acquired virtually all of Nanotronics' technology and assets in exchange for 5 million shares of Patriot common stock and 5 million more in an earnout escrow agreement.
Helmut Falk, founder, president and sole shareholder of Nanotronics gained control of 36 percent of Patriot. Falk became chairman and CEO, replacing Elwood Norris, who stayed on as a director.
Patriot is hopeful the ShBoom Chip will complement its exciting sensor and computer processing technology. "Management believes the ShBoom Chip has applications in a variety of existing and new embedded control systems but because of its advanced features it has applications beyond," the company reported in its latest 10KSB filing. "Although generally more expensive per unit and requiring more support logic and memory, these devices offer many advantages for more sophisticated embedded control systems."
The company may integrate the product into its core research on ground penetrating radar (GPR), a technology developed by Norris.
Patriot is testing GPR through a penetrating microwave radar evaluation system (PMR), a mix of laboratory equipment with internal software and hardware and specialized components such as antennae, power generators and amplifiers.
It uses electromagnetic radiation techniques capable of "seeing" up to 200 feet below the surface of earth or through solid objects such as buildings.
Patriot says the technology holds several advantages over existing systems. Because GPR isn't required to touch the object it is looking through, the system is mobile and can look sideways--through walls, for example. The images are produced on-site, allowing the user to change surveying strategies if needed.
GPR technology is designed to provide cross-sectional, color-enhanced images of sub-surface objects as small as 12 inches in diameter. Previous technology penetrated only a few meters and provided only crude graphical or chart depiction of surface characteristics. One of Patriot's goals is to provide 3-D subsurface images.
Patriot thinks its technology will have a variety of applications in industries such as oil and gas exploration, mining, archaeology, geology, water drilling, pollution control, defense and law enforcement.
In February the company readied PMR for commercial deployment and testing. Three months later the company said it discovered a new sensor-related development with broad applications in the technology industry. Then-president Mark Gaspar said Patriot is preparing patent filings before releasing technical details.
Earnings and Revenues
In 1995's first quarter ended Aug. 31, Patriot lost $459,986, or 2 cents per share, on revenue of $15,890, compared with losing $212,673 on $6,517 in the same quarter the year before.
For its entire 1994 year ended May 31, the company lost $973,290, or 8 cents per share, with interest revenue of $64,196. This compared with a loss of $386,924 on $8,726 in '93.
Directors and Officers
Helmut Falk replaced Elwood Norris as chairman and CEO in June and took over for Mark Gaspar as president in August. Falk founded DH Technology Inc. and is president and founder of Nanotronics. Norris remains a director. Robert Putnam, CEO of American Technology Corp., is secretary, treasurer and a director. Each is affiliated with Norris Communications Corp.
Executive Compensation
In fiscal 1994 Norris was paid $42,000 and a $10,000 bonus from Patriot, compared with the $42,000 salary and 150,000 shares of longterm compensation in 1993.
Major Shareholders
Falk beneficially owns 10 million shares, or 36 percent, of Patriot stock. Five million of these shares are in escrow. Norris controls 5.15 million shares, or 18.5 percent of the common stock. Putnam owns 93,332, less than 1 percent. All officers and directors as a group own 15.24 million shares, 54.5 percent.
Stock Price
Traded over the counter, Patriot stock closed the calendar year at 28.2 cents, following an annual high of $3 and low of 21 cents.
Less Vital Statistics
Address: 12875 Brookprinter Place, Suite A, Poway, CA 92064. Phone: (619) 679-4428. Last annual meeting: Jan. 11, 1995.