San Diego Daily Transcript
December 14, 1994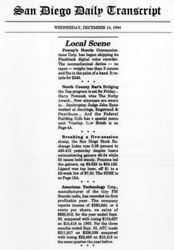 Local Scene

Poway's Norris Communications Corp. has begun shipping its Flashback digital voice recorder. The nonmechanical device--no tapes--weighs less than 3 ounces and fits in the palm of a hand. It retails for $249.

* * *

American Technology Corp., manufacturer of the tiny FM Sounds radio, has recorded its first profitable year. The company reports income of $320,340, or 4 cents per share, on sales of $825,816, for the year ended Sept. 30, compared with losing $104,627 on $15,418 in 1993. For the three months ended Sept. 30, ATC made $311,817 on $336,039 compared with losing $22,489 on $15,418 in the same quarter the year before.

Contact Webmaster
Copyright © 2001-2005 Woody Norris. All rights reserved.
Revised: September 29, 2005