TWICE
This Week in Consumer Electronics
June 6, 1994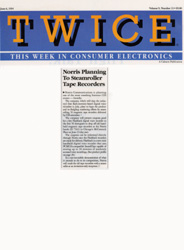 Norris Planning To Steamroller Tape Recorders

Norris Communications is planning one of the more smashing Summer CES events--literally.

The company, which will ship the industry's first flash-memory-based digital voice recorders in July, plans to hype the product and its fledgling marketing efforts by steam rolling 50 magnetic tape recorders delivered by CES attendees.

The company will present coupons good for a free Flashback digital voice recorder to the first 50 showgoers to drop off old handheld magnetic tape recorders a the Norris booth (D 7561) in Chicago's McCormick Place on June 23 (day one).

The coupons can be redeemed directly through Norris once the Flashback recorders are ready for delivery. Flashback is a new mini handheld digital voice recorder that uses PCMCIA-compatible SoundClips capable of storing up to 30 minutes of randomly accessed voice recordings. (See product profile on page 28.)

In a not-too-subtle demonstration of what it intends to do to its competition, Norris will crush the old tape recorders with a steam roller at an invitation-only reception.
Contact Webmaster
Copyright © 2001-2005 Woody Norris. All rights reserved.
Revised: September 29, 2005