Inventor Wins $500,000 Lemelson-MIT Prize for Revolutionizing Acoustics
Portland, OR (April 18, 2005) – The next time you think you hear voices in your head, you may be right, thanks to Elwood "Woody" Norris. This week, Norris will receive the $500,000 Lemelson-MIT Prize for numerous important inventions, including HyperSonic Sound®, which enables sound to be targeted to an individual listener.
"Woody Norris is a classic independent inventor. His curiosity is unbounded and spans many fields," said Merton Flemings, director of the Lemelson-MIT Program, which sponsors the annual award.
Norris will receive the award this Friday, April 22, during the 11th annual Lemelson-MIT Awards Ceremony, being held at the Oregon Museum of Science and Industry in Portland.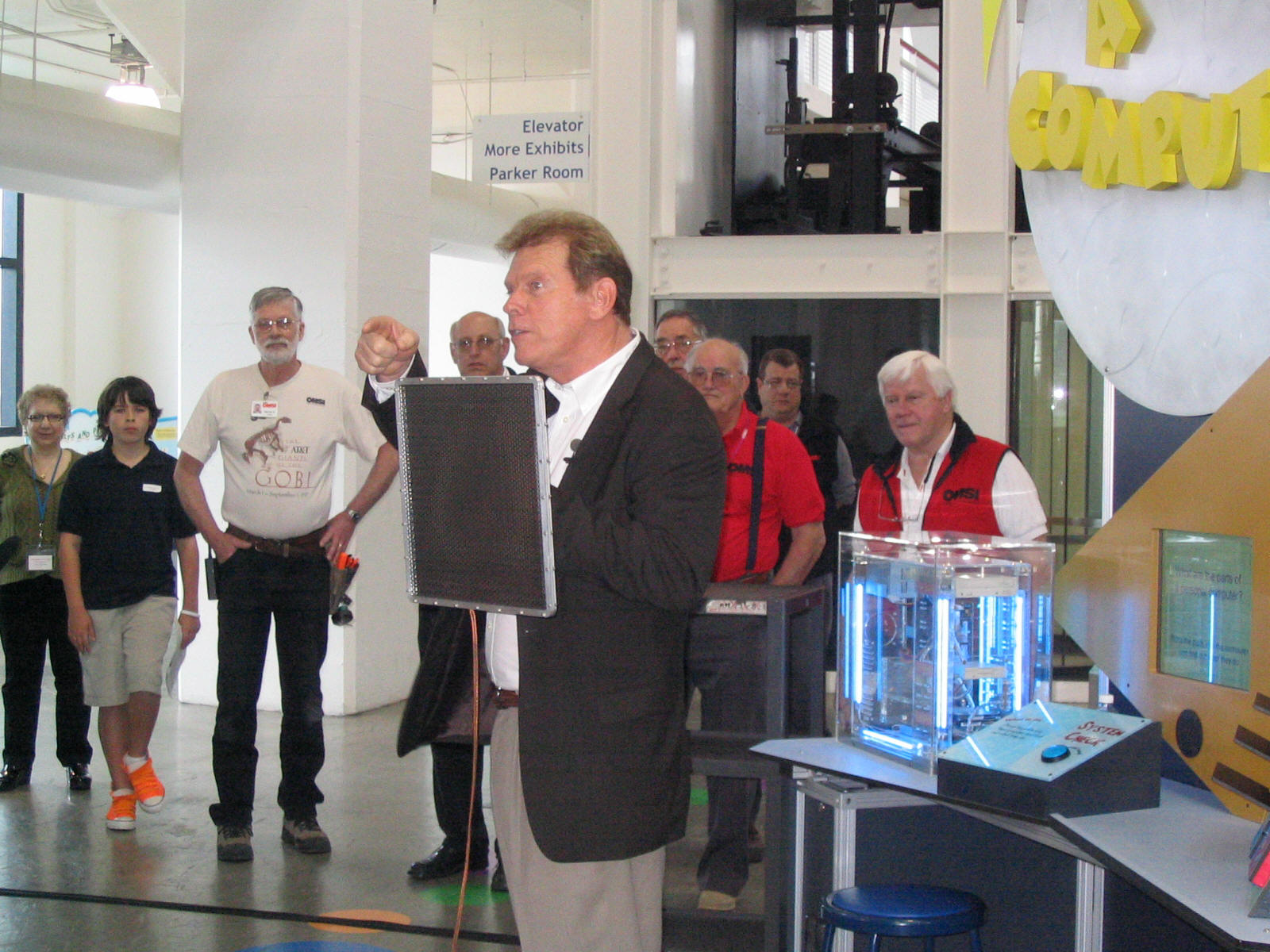 Norris shows off his HyperSonic Sound invention at OMSI's Innovation Station.
SOUND WAVES OF THE FUTURE
Norris, the son of a coal miner who had only a third grade education, grew up in a family that struggled to make ends meet. The family's only luxury was a radio, which at the age of 8 Norris took apart to learn how it worked and produced sound. From that moment, he became captivated with electronics and made a hobby out of taking them apart.
More than 30 years after tinkering with the family's radio, Norris continues to be fascinated by how sound works. His HyperSonic Sound (HSS®) invention is said to be the first big improvement in acoustics since the loudspeaker was invented 80 years ago. Norris first filed a patent for HSS in 1996 and received it three years later in 1999. In 2002, the first commercial version of the device became available.
According to Norris, improvements to sound projection were deemed too expensive and, therefore, not attempted. He overcame this challenge by applying a simple analogy to his work - if televisions work by mixing three colors to make millions, could he mix sound frequencies to create crisp, clean sound that could travel farther?
HSS allows for ultrasonic waves to be created at more than 50,000 cycles per second, which keeps them in a focused beam and above the range of human hearing. As the ultrasonic waves mix in the air, the frequencies break down so they can be heard. By simply stepping into the "beam," an individual can hear the sound as if it were generated inside his or her head.
"When Thomas Edison first invented the light bulb, it revolutionized what we saw. We quickly learned how to focus light, creating hundreds of applications including television, computers, movies— many of the things we take for granted," Norris explains. "Turn on a loudspeaker and the sound goes everywhere; just like the first light bulb shed light everywhere. HSS is a way to target sound the way we focus light."
TURNING IT UP A NOTCH
Today, American Technology Corporation, the public company Norris founded in 1980, is working with hundreds of companies to develop applications of HSS in automobiles, grocery stores, airports, museums, fast-food restaurants and theme parks.
"Thousands of innovative ideas and products are pitched yearly to the automotive companies  [and] only a fraction of [them] ever make it to the serious stages of commercialization," C.W. Edgar, Senior Manager of the Chrysler group at DaimlerChrysler, wrote in a recommendation letter. "(Norris') HyperSonic Sound technology invention was one of those once-in-a lifetime technologies. HSS has the ability to profoundly change the audio experience of the automotive occupant."
Most recently, American Technology Corporation has been working with the United States Department of Defense on a project that uses focused sound as a long-range hailing and warning device to determine intent and protect troops and local innocents. Long Range Acoustic Device, or LRAD, an off-shoot of HSS, is a directional sound device that can be used both as a warning and a non-lethal weapon system. The device can pinpoint verbal commands from more than 500 yards away, as well as create a sound at 120 decibels, which can disable enemy combatants.
DREAMS TAKE FLIGHT
Norris' newest project is a unique personal flying craft called the AirScooter®, which has been in development since 2000.
Described as the real-life version of Star Wars' flying pods, the AirScooter weighs less than 300 pounds, qualifying it as an ultra-light recreational vehicle. New and innovative four stroke engine technology was invented to enable this product. Due to its light weight, the AirScooter does not require a special operating license, which means almost anyone can learn to fly.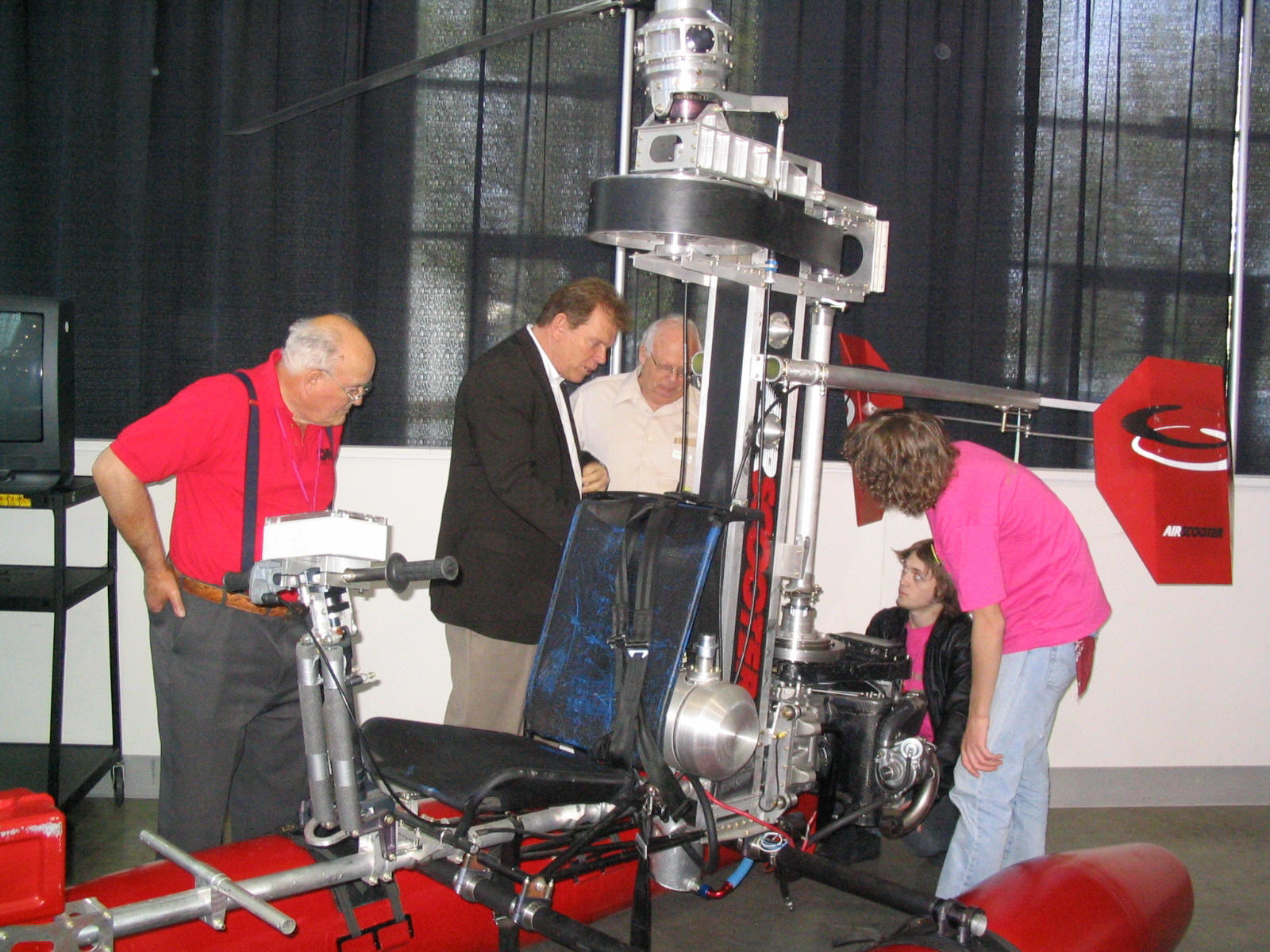 Norris discusses features of his AirScooter with InventTeam students.
In addition to HSS and the AirScooter, Norris holds 47 patents, with more than 100 issued or pending patents worldwide. Some of his other inventions include Flashback®, the first digital recording technology, and an ear-mounted speaker/microphone that evolved into the worldwide Jabra headset product family. Norris also developed a transcutaneous Doppler system, which was a precursor of sonogram devices.
INSPIRING OTHERS
Norris finds inspiration everywhere he looks, and he passes that sense of inspiration on to students and other aspiring inventors.
"There are classes to inventing. It isn't limited to science and technology. Writers, actors, cooks and artists are all inventors," Norris explains. "People need to be encouraged to go out there and pursue the fields that will help them create the wonderful things they are capable of achieving."
To that end, Norris plans to use the Lemelson-MIT Prize money to establish a Foundation to help struggling independent inventors.
ABOUT THE $500,000 LEMELSON-MIT PRIZE
The $500,000 Lemelson-MIT Prize, the largest single cash prize for invention in the United States, is awarded to an individual who demonstrates remarkable inventiveness and creativity, and a proven commitment to inspiring others. A distinguished panel of scientists, technologists, engineers and entrepreneurs selects the winner.
The most recent winners of the $500,000 Lemelson-MIT Prize include Nick Holonyak Jr., who developed the first red light-emitting diode (LED); Leroy Hood, whose DNA sequencer made possible the Human Genome Project; Dean Kamen, most popularly known for the Segway™ Human Transporter; and Raymond Kurzweil, who invented the first musical synthesizer and the first reading machine for the blind.
ABOUT THE LEMELSON-MIT PROGRAM
The Lemelson-MIT Program provides the resources and inspiration to make invention and innovation more accessible to today's youth. It accomplishes this mission through outreach activities and annual awards, including the $500,000 Lemelson-MIT Prize, the largest single award in the United States for invention.
More information on the Lemelson-MIT Program is online at Lemelson-MIT
(republished from http://www.lemelson.org/news/current_detail.php?id=650)